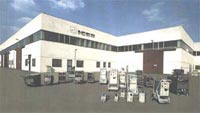 ICEB… strength and reliability in evolution
Established in 1967, ICEB is one of the leader manufacturers, of generators for the welding and plasma cutting of metals, specifically designed for professional use.
Research, technology, service
ICEB's products are born of the experience of skilled professionals who are constantly engaged in the research of the most up-to-date technological solutions. Careful design, highest quality components and pre- and post-sale customer service are just a few of the ways in which ICEB responds to the various requirements of both users and dealers, in the national and international markets.
Flexibility
The continuous evolution of the market and the growth of the competition require a flexibility in production and skills, which, thanks to more than 30 years experience and a dynamic organisational structure, ICEB has. In conclusion ICEB is able to provide, when necessary, personalised products and services.